Haim Nathaniel Ltd. provides freight shipping solutions that deliver your merchandise from Israel to the doorstep of your customer's assembly plant, office or warehouse anywhere around the globe. Our professionals will help you select the shipping method and route that best matches your priorities of cost, timing and other shipping requirements.

Our computerized information systems are the most advanced in this industry and provide you with up-to-the-minute online access to your shipment status.


The professional staff of our export department takes active responsibility for tracking your shipment by air or sea, from the initial order in Israel to final delivery overseas. Our wealth of experience assures you that you will be presented with the best possible options to meet your shipping requirements.
We offer every logistical service, such as overland freight in Israel, packing, storage, insurance and handling of documents and letters of credit. You are guaranteed to receive personal service, quick response and the solution that best serves your needs.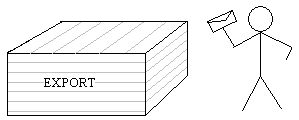 Haim Nathaniel Ltd. Reliability, Knowledge, a Legacy of Service.